News from the official Manning website. We are pleased to announce that former MANNING guitarist extraordinaire, David Million is returning to the fold for both Elektrik and Akoustik work!
David will be the sole lead guitarist when Kev and Chris depart (after Summers End in September), so he has alot of work to do in replacing both these fabulous players, but David is well up for the challenge!
A Statement From David Million

"It is fantastic to be working with Guy again. 
Following a successful appearance at the Cambridge Rock Festival in 2009,
I left the Manning line-up and focused myself on some pressing personal and work issues.  Whilst I was away, Manning continued to flourish and develop. I think the work done by Chris Catling and Kev Currie has been consistently strong and coming back to play a solo guitar role that covers both areas is, to say the least, a bit of a challenge. Those guys are extremely talented and accomplished players and to follow either of them is a scary prospect.
My relationship with Guy has always been dynamic but underpinned by a tremendous sense of being on the same page.  Our work together on Anser's Tree, Bilston House and Number Ten provided ample evidence that we are on a similar wavelength and looking ahead, it is exciting to think about the new projects to come.
More important than anything is the knowledge that I can once more stand alongside Guy and play to a loyal fan base that understands and appreciates the work that goes into making this kind of music. The thing I have missed the most has been the warmth and support of some lovely people who turn out in the most unholy weather conditions, travel great distances and show their affection for Guy and the band.
There is a distinct sense of coming home in all of this but things have moved on, the music is more dynamic, the playing is even better and the line-up change means that I will have my work cut out.  With a band this good and knowing that Guy is ready to deliver even better material than before, it seems like a worthwhile endeavour indeed and to say I am fizzing with anticipation, is something of an understatement.
It's been 3 years since I wandered off but the bond that exists between me and Guy is as strong as it ever was.  He writes great music, inspires my playing and he can reach out to a wide audience and hold them spellbound with his music and his lyrics.  Being a part of that relationship was and still is a privilege.  I predict more great music, great live entertainment and ceaseless banter as Manning enters its next incarnation.
I wish Chris and Kev the very best as they venture forth into their own new territory and promise to safeguard their musical legacy (and my own, for that matter) with Manning. I also look forward to reacquainting myself with Guy's fans and friends."

Other news: Work is continuing on the next 2 MANNING albums: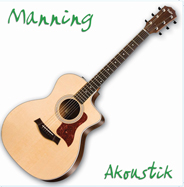 "AKOUSTIK" has been completed at last and hopefully will be ready to release in time to support our Autumn 2012 Dates. A sample track is now available via the LISTEN tab.

The next (as yet unnamed) MANNING studio album has been demoed and 9 new
pieces are ready for the new band to work on.

Likely to be a 2013 release, more news about the concepts/ideas behind this one
and more details about the songs will be coming later in the year.